Standard Implant
IDL Standard Implant system is characterized by its straight, slightly conical body.
Due to the unique design, the implant achieves high stability during the insertion and has a significantly larger surface area for the increased bone-implant contact. It could be successfully used in a dense bone and as the anchor implant in multi-unit restorations. Cylindrical implants have been around for many years and it is a classic and reliable product. It enables smaller osteotomy resulting in minimal bone loss and reduces trauma.
At IDL, our objective is to provide safe and high precision dental products and services to the clients.
This is why each product undergoes the strictest quality control measures. We ensure that a high percentage of samples are taken from every batch. Each sample passes a very strict set of tests of cleanliness and conformity thus ensuring minimal rejections afterward. All of our products adhere to the highest international standards. All IDL Implants implants are made of titanium alloy Ti-6Al-4V ELI, in accordance with ASTM-F136-02. All IDL Premium Line implants undergo SLA surface treatment.
IDL Standard Cone Line Implant Features:
Self-taping:  three cutting flutes are designed to engage the bone immediately during placement and ensure multi-directional locking.
The tapping head cuts into the bone with far less friction due to the relief design of the cutting edge.
The smooth tri-dome apical part is gentle to anatomical structures.
Smooth and controlled insertion of implant (according to the recommended drilling protocol) due to straight wall structure.
Non-aggressive multi-format threads without peri-implant bone condensing effect.
Micro rings on a coronal part -greatest surface area, better load distribution and decreased crestal stress.
| Lenght | Ø 3.5 | Ø 3.75 | Ø 4.2 | Ø 5.0 | Ø 6.0 |
| --- | --- | --- | --- | --- | --- |
| 8.0 mm | IDFI 0835 | IDFI 0838 | IDFI 0842 | IDFI 0850 | IDFI 0860 |
| 10.0 mm | IDFI 1035 | IDFI 1038 | IDFI 1042 | IDFI 1050 | IDFI 1060 |
| 11.5 mm | IDFI 1135 | IDFI 1138 | IDFI 1142 | IDFI 1150 | IDFI 1160 |
| 13.0 mm | IDFI 1335 | IDFI 1338 | IDFI 1342 | IDFI 1350 | IDFI 1360 |
| 16.0 mm | IDFI 1635 | IDFI 1638 | IDFI 1642 | IDFI 1650 | |
SLA Surface Treatment:
The classic SLA surface, short of «Sand-blast, Large grit, Acid-etch» is based on large aluminum oxide Al2O3 particles sandblasting technique that generates a macro-roughness on the titanium surface. Sandblasting is followed by acid-etching batch at high temperatures. As a result, subtle-sized 2-5 micron micropores appear at the implant surface. This unique macro/micro-topography provides an ideal structure for the cell attachment while reducing the possibility of bacterial colonization. SLA surface treatment technique seemed to be one of the most studied and best documented surfaced in a modern dental implantology. Cell culture tests, histological studies of bone, all confirmed its strong long-term performance, high mechanical stability and a low odds ratio of developing periimplantitis. This makes the SLA a perfect choice for the contact surfaces of the implants. IDL has improved the process, making it hands-free and minimizing the aluminum oxide residuals that may remain on the surface and could significantly impair osseointegration.
Survival rates:
High and consistent survival rates (over 95% after a five-year follow-up).
Bone Preservation:
Average bone loss of <1 mm after five years (Based on the implant loading time).
No Peri-Implantitis
Very low prevalence of peri-implantitis over the 5-year follow-up period.
No aluminum contaminants
Mean a more successful and accelerated process of osseointegration than ever.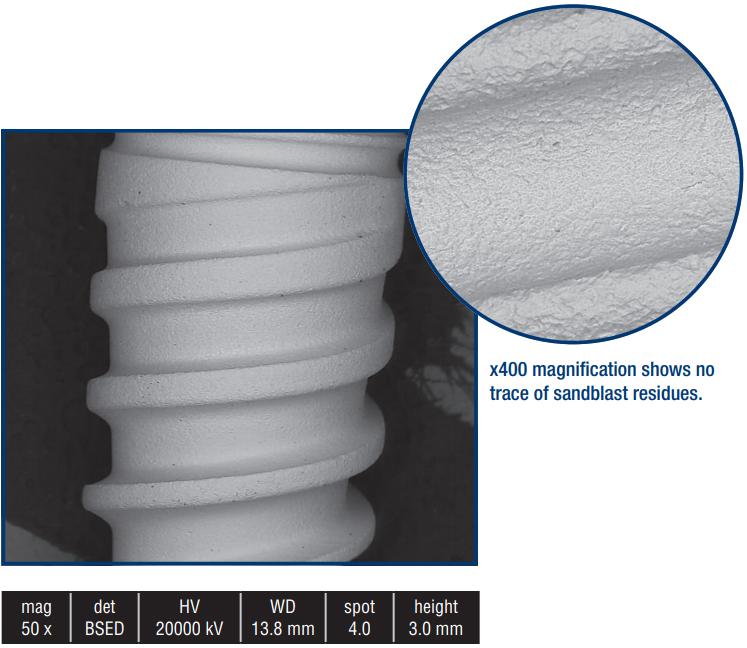 IDL Standard Cone line implant drilling protocol: