What will happen if we will take two of our best-selling biomaterials and combine them in one?
Sponge Graft a revolutionary product, which has a two-phase composition of pure bovine collagen and calcium phosphate/hydroxyapatite formula due to which it retains its resemblance to natural bone. The collagen phase provides biological signals for wound healing in the hole, and the mineral phase provides primary stability, slow and complete resorption in the operated area. Sponge Graft fits perfectly into the cavity of the post-extraction well, without the need for pre-rehydration. Sponge Graft is used as a protection and temporary filler of the post-extraction well during early implantation, or as a regenerative material that promotes the formation of new bone during delayed implantation.
Clinical application of Sponge Graft is limited only with the surgeon's imagination.
Indications:
Preservation of the hole and crest
Ridge preservation
Periodontal defects
Defects around the implant
Defects after resection, cystectomy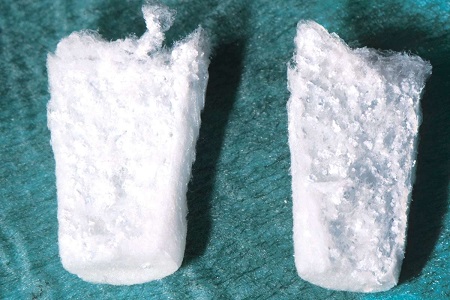 Benefits:
Conical shape for easy use.
Seals up the bleeding tissues immediately.
Simple adaptation in the area of ​​the defect
Volume maintenance and prevention of tissue collapse
Reducing the need for further augmentative procedures
Improving the aesthetic result of the final restorations
After tooth extraction, the socket is filled with blood and a coagulum is formed. Within a week, vascular and connective tissue cells transform the clot into granulation tissue that will be replaced by a temporary matrix. Mineralizing starts from the socket walls and leads to the formation of new bone that gradually fills the socket.
This bone will be eventually replaced by mature (lamellar) bone.
The common problem of ridge atrophy and collapsed soft tissues that complicate implant placement is now solved.
DSI Collagen Sponge resorbs in 2-3 weeks. Two-component Syntoss material is fully resorbable within 3 to 6 months.
In the case of delayed implantation:
We recommend placing implants earliest at 12 weeks post-op. In the case of earlier re-entry, the material might not be fully integrated
| Product | Code |
| --- | --- |
| Sterile Sponge ZenGraft in blister, 5pcs/box | DS-ZG1020 |
| Sponge Graft Deticated Tool | SGTOOL |