Direct restoration – pros and cons
How to bypass the disadvantages of your composite and turn them into advantages?
Composites science (types of materials, classifications, composition of composites)
Principles of anterior tooth restoration, restoration techniques
The author's concept of using three silicone keys in restoration (superficial acquaintance with the technique) 3Keys-3DArchitecture
Patient examination. At-risk groups. Treatment planning in relation to the initial clinical situation.
Photo protocol.
Selection of restoration color. Two techniques born of practice
Occlusal preparation of the patient. Every restorer should know this
Mockup. Why do you need a preliminary layout of the future restoration? Morphology of anterior teeth
Adhesive protocols. Generations of adhesives. Compound. To use or not to use a desensitizer and chlorhexidine?
Detailed analysis of the author's technique for restoring anterior teeth 3D Architecture
Original finishing protocols for restoration processing, grinding and polishing (multi-brand and Kagayaki)
Workshop from 10.00 to 18.00:
Making silicone keys
Dissection using silicone keys
Adhesive preparation
Layer-by-layer restoration of the central incisor
Working with opaquers and paints
Imitation of mamelons and halo effect
Multi-stage finishing of the restoration
Protocol for grinding/polishing a restoration
Lecturer – Denis Krutikov
Specialization: Restorative dentistry, orthopedic dentistry.
Clinical experience over 22 years.
Silver Member in Style Italiano.
Member of the American Society of Cosmetic Dentistry (ASCD).
Member of the European Society of Aesthetic Dentistry.
Member of the Russian Dental Society.
Member of the National Academy of Implantology and Aesthetic Dentistry.
Graduated from Samara State Medical University with a degree in orthopedic dentist.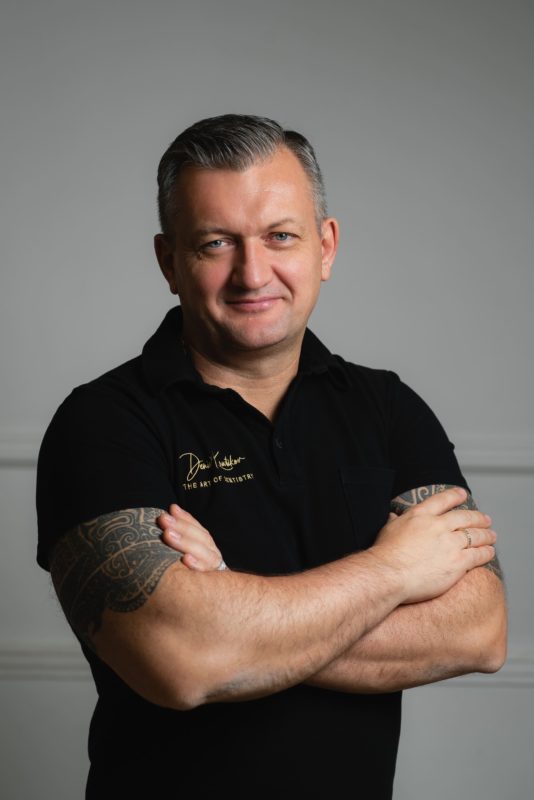 Contacts:
Dear Colleagues! If you have any questions,
please contact us at the numbers provided.
Sign up for a master class: