Prime Implant
$ 57
IDL Prime implant system is characterized by its advanced design for achieving unique clinical results.
SKU

Thumbnail

Stock

Product

Price

Quantity

INP 0835

500

Prime Implant Ø 3.5×8.0

$

57
INP 1035

500

Prime Implant Ø 3.5×10.0

$

57
INP 1135

500

Prime Implant Ø 3.5×11.5

$

57
INP 1335

500

Prime Implant Ø 3.5×13.0

$

57
INP 1635

500

Prime Implant Ø 3.5×16.0

$

57
IRP 0643

500

Prime Implant Ø 4.3×6.0

$

57
IRP 0843

500

Prime Implant Ø 4.3×8.0

$

57
IRP 1043

500

Prime Implant Ø 4.3×10.0

$

57
IRP 1143

500

Prime Implant Ø 4.3×11.5

$

57
IRP 1343

500

Prime Implant Ø 4.3×13.0

$

57
IRP 1643

500

Prime Implant Ø 4.3×16.0

$

57
IRP 0650

500

Prime Implant Ø 5.0×6.0

$

57
IRP 0850

500

Prime Implant Ø 5.0×8.0

$

57
IRP 1050

500

Prime Implant Ø 5.0×10.0

$

57
IRP 1150

500

Prime Implant Ø 5.0×11.5

$

57
IRP 1350

500

Prime Implant Ø 5.0×13.0

$

57
IRP 1650

500

Prime Implant Ø 5.0×16.0

$

57
All the features you would expect to find in your ultimate implant – Strong&Solid Morse Taper Conical-Hex NobelActive® Compatible Connection, Anatomic Tapered Body Core & Back Tapered Coronal Design, Narrow Core Apex, Reverse Cutting Double Divergent Threads, Helical Apico-coronal Slots, Bone Condensing Lower Zone with Directional Change Ability, are present in IDL Orange Line. IDL Prime Implant is the result of an endless pursuit for an exceptionally high-level product that is simple, easy-to-use and offers enhanced functionality,  performance, and aesthetics. Combines the original tapered implant body with a tight seal interlocking conical connection hexagon. This offers the best aesthetic solution for all indications. The implant's body designed to mimic the shape of the natural tooth root and ensuring high initial stability for all loading protocols, including immediate loading of the implant. IDL CC Implant features built-in design characteristics that provide biological benefits for hard and soft tissues and promotes esthetic results. The unique biologic and mechanical features of the implant encourage bone regeneration and a greater volume of bone, supporting highly stable surrounding soft tissues and more esthetic restorations. IDL Prime Implant is a Specially designed implant with high primary stability in demanding situations, such as soft bone or extraction sockets.
At IDL, our objective is to provide safe and high precision dental products and services to the clients.
This is why each product undergoes the strictest quality control measures. We ensure that a high percentage of samples are taken from every batch. Each sample passes a very strict set of tests of cleanliness and conformity thus ensuring minimal rejections afterward. All of our products adhere to the highest international standards. All IDL Implants implants are made of titanium alloy Ti-6Al-4V ELI, in accordance with ASTM-F136-02.
Conical Connection Line Implant Features:
The anatomy – matching converging coronal shape and platform switch ability to optimize bone and soft tissue volume and prevent future regression.
A double progressive divergent thread which slices and gradually compressing the bone as it progresses from the neck area. more strength and stability in demanding situations, such as extraction sockets, poor bone quality, and immediate loading.
Variable height level blades are increasing the implant surface and allowing to achieve reliable primary stability even in a soft bone.
Reverse-cutting flutes with drilling blades become increasingly aggressive and sharp at the third coil from the apical end, thus offering excellent primary stability. Experienced clinicians can benefit from the possibility to adjust the implant position during placement for an optimized restorative orientation.
Conical connection creates an ultimate seal an ideal connection between the implant and abutment reducing micro-movements.
Micro-rings on the neck of the implant assist in reducing bone stress and bone resorption and increase BIC.
The surface roughness and micro-morphology is a result of sandblasting and acid etching. This proven surface technology provides excellent osseointegration resulting in long-lasting clinical success.
Fully compatible with Nobel Active Implant RP and NP.
Excellent Sensibility during placement.
High stability restorations.
Fast Insertion and excellent primary stability.
Self-Drilling and self-tapping.
| Lenght | NP Ø 3.5 | RP Ø 4.3 | RP Ø 5.0 |
| --- | --- | --- | --- |
| 6.0 | | IRP 0643 | IRP 0650 |
| 8.0 | INP 0835 | IRP 0843 | IRP 0850 |
| 10.0 | INP 1035 | IRP 1043 | IRP 1050 |
| 11.5 | INP 1135 | IRP 1143 | IRP 1150 |
| 13.0 | INP 1335 | IRP 1343 | IRP 1350 |
| 16.0 | INP 1635 | IRP 1643 | IRP 1650 |
SLA Surface Treatment:
The classic SLA surface, short of «Sand-blast, Large grit, Acid-etch» is based on large aluminum oxide Al2O3 particles sandblasting technique that generates a macro-roughness on the titanium surface. Sandblasting is followed by acid-etching batch at high temperatures. As a result, subtle-sized 2-5 micron micropores appear at the implant surface. This unique macro/micro-topography provides an ideal structure for the cell attachment while reducing the possibility of bacterial colonization. SLA surface treatment technique seemed to be one of the most studied and best documented surfaced in a modern dental implantology. Cell culture tests, histological studies of bone, all confirmed its strong long-term performance, high mechanical stability and a low odds ratio of developing periimplantitis. This makes the SLA a perfect choice for the contact surfaces of the implants. IDL has improved the process, making it hands-free and minimizing the aluminum oxide residuals that may remain on the surface and could significantly impair osseointegration.
Survival rates:
High and consistent survival rates (over 95% after a five-year follow-up).
Bone Preservation:
Average bone loss of <1 mm after five years (Based on the implant loading time).
No Peri-Implantitis
Very low prevalence of peri-implantitis over the 5-year follow-up period.
No aluminum contaminants
Mean a more successful and accelerated process of osseointegration than ever.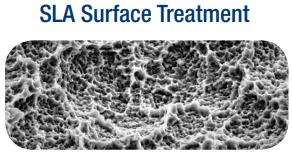 Conical Connection Implant Line Drilling Protocol: